Supernova Success from Portugal
School:

High School Adolfo Portela

Website:

Resource used:

Category:
We've had more success on this year's favourite supernova so far, SN2016adj in Centaurus A.
High School Adolfo Portela in Portugal have been observing the supernova and performing photometry measurements in their Astronomy Club.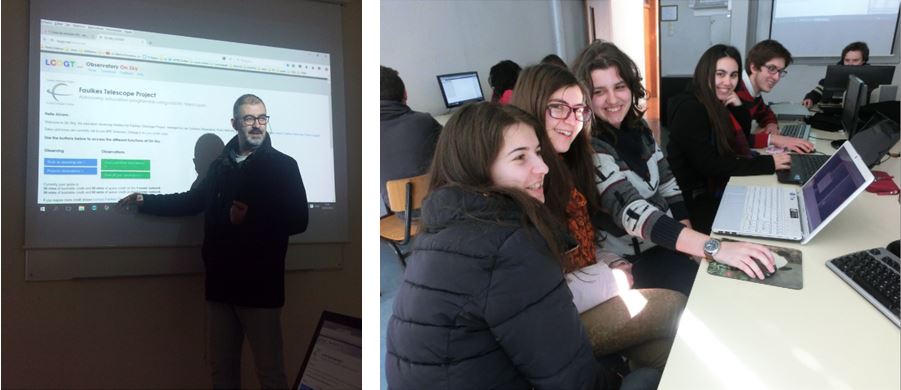 Here is what the students had to say about their experiences: 
"What we like the most in High School Adolfo Portela's Astronomy Club, it is the opportunity to realize challenging scientific projects, using sophisticated equipment and technology. Studying a real Supernova, during the event of this phenomenon, it is simply amazing. We have the science there, in our hands, waiting to be researched, waiting to be discovered, without results previously defined.
It has been an adventure, exploring the techniques and overcome difficulties. We have not reached the end of this task, and do not even know with the data we collect, what new ideas could come to be explored. For now, we are committed to understand how a supernova goes extinct in brightness and color change, and apply the concepts studied in theory in physics as the laws of Wien and Stefan-Boltzmann to this reality. Later we will see.
We appreciate all the support given by Faulkes Telescope Project Team, for giving us this opportunity and for the help and support." 
- Students of Astronomy Club of Escola Secundária Adolfo Portela (Águeda, Portugal)
They also produced a lovely colour image of the supernova in its host galaxy Centaurus A, check it out here. 
The students will be submitting their work to the 'FCT Nova Challenge', a science and technology contest in Portugal. To this, the Faulkes team would like to wish them the best of luck and hope they keep up the great work!