Photometry from France
School:

College le Monteil

Website:

Resource used:

Category:
College le Monteil in France have had great success both observing and analysing data they obtained from the Faulkes Telescopes. Students took their own images of the recent supernova in Centaurus A and used these along with images taken by other users to perform photometry.
From their results, they were able to plot a light curve in order to see how the supernova has faded over time.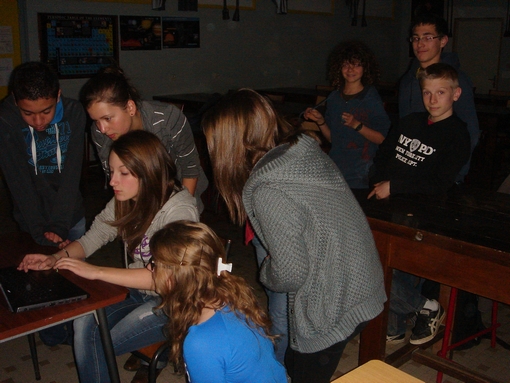 Sylvie, a student at College le Monteil described how they carried out their measurements and their experience of using the telescopes:
"Our teacher Mr Debackère showed us two images of the galaxy NGC 5128 taken with the Faulkes Telescope South on two different dates and ask us if we see the difference between the two images (he helped us by telling us to look towards the center of the image). Our friend Loïc saw the first, a new star near a bright star. Mr Debackère explained that we saw a phenomenon called "supernova" and asked us to research what this term means. Mr Debackère then suggested us to use images that we had taken and also images taken by other LCOGT telescope network users. We started with a set of images selected by him and spread between February 10 and March 10. In late March we have completed our work with images up to March 26. A total of 11 images to see if the brightness of the new star has change. To make this work we used a dedicated software (Makali'i) and a tutorial for photometry (Supernovae with Makali.pdf). The principle described in the tutorial is not easy but we understood that to study variation in brightness of a star we must select reference stars whose brightness does not change. Each student in the group measured an image with the same settings for photometry. Then Noémie collected all data and plot the graph where we clearly see a steady decline in the brightness of the supernova!"
Their results can be seen in the figure below: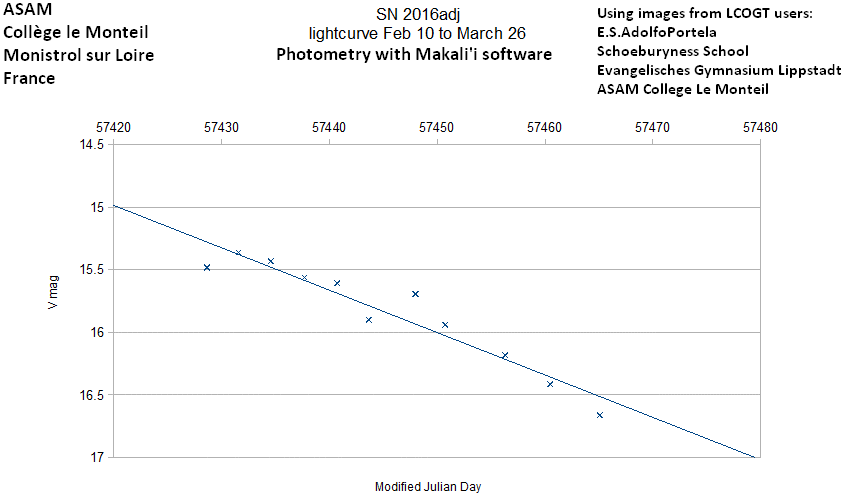 The students' teacher, Mr Debackere had this to say:
"It's great to be able to do scientific work with the LCOGT telescope network. I hope this enourages other groups not only to make beautiful images, but to use them and to do collaborative work." 
If you'd like to find out how you can investigate supernovae and take your own observations, contact one of the FT team:
fraser.lewis 'at' faulkes-telescope.com
sophie.bartlett 'at' faulkes-telescope.com