Teacher Training at the National Space Centre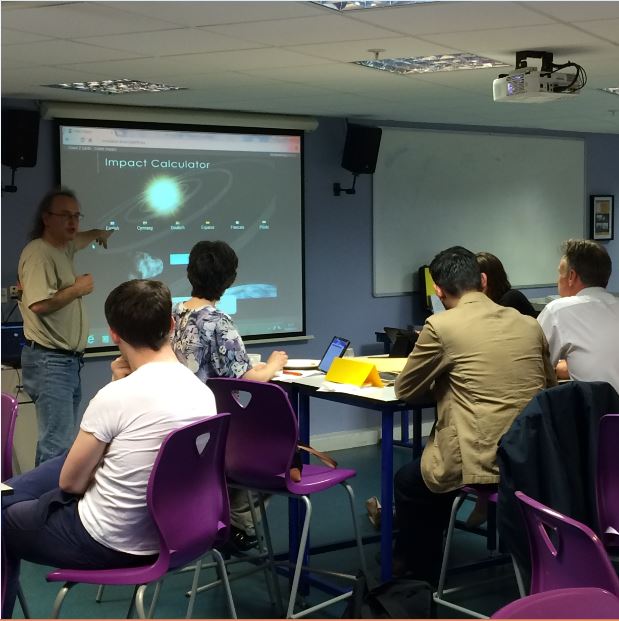 The Faulkes Team recently participated in a teacher training event in Leicester as part of the European project, Go-Lab. The event was hosted by Andy McMurray at the National Space Centre where he is the Head of Teaching and Learning. 
Go-Lab is the Global Online Science Labs for Inquiry at School. The aim of the project is to encourage students from ages 10 to 18 to actively engage with science subjects, develop their skills of scientific inquiry and practice processes of doing science through guided experimentation. These aims are achieved through an extensive repository of online virtual and remote science laboratories.
The twilight event welcomed teachers from around the UK and complimentary to their attendance, were given the opportunity to get a full experience of the National Space Centre. The training involved multiple sessions over 3 hours and introduced teachers to Go-Lab, how they can create their own online lesson plans and how they can access a variety of educational apps, tools and labs.  
Dr. Fraser Lewis introduced teachers to the array of resources the Faulkes Telescope Project has to offer, with a particular focus on access to the worldwide telescope network and some examples of projects that have been carried out by school students. Fraser also demonstrated the Down2Earth Impact Calculator that simulates impacts on Earth and how this can be used in conjunction with Go-Lab and within the classroom environment. 
The Faulkes Team were joined by Rosa Doran of Nuclio; a non-profitable company dedicated to public outreach and education from professional and amateur astronomers and astrophysicists. Specialisers and researchers in human-computer interaction, Dr. Effie Law, Dr. Rob Edlin-White and Matthias Heintz from the University of Leicester also presented and delivered.  
The event was a great success and we already have further CPD events planned for the near future. For further details and how to book a place, please visit our Upcoming Events page here.