Observing the Universe - a school's perspective
Last week, students from Horbury Academy used Faulkes Telescope North to take images of the cosmos and were lucky enough to help make a discovery - below is their report of their observing session - it's a pleasure to read about such fantastic work!
Viewing Comet29P at Horbury Academy
It was with great anticipation on the morning of Thursday 18th April that Horbury Academy Astronomy GCSE class sat down in their Astronomy classroom to access the Faulkes Telescope Hawaii.
We were unsure which objects we were going to view that morning and we were in a good position as we had a one hour slot in which to get some images of some objects in the Universe and possibly some Messier objects to help us with some work we were doing for our controlled assessment.
Mr Campbell had looked at a few objects that would be useful for us to view but we were hoping that he had had some other information about other possible objects especially comets, as we had had a very exciting morning a few weeks ago viewing C2013A1 (the possible Mars busting comet).
Fortunately he had received an email that morning from Nick Howes as well as an urgent email from Alison Tripp concerning Comet29P that had recently gone into outburst, as well as some coordinates that Nick wanted us to check up on! What luck! We got logged in and waited for the clock to tick down to our slot. We were quite worried at first as the telescope was saying it was open but was not operational. Mr Campbell assured us that it was probably because some other scientists were doing some observations and that the weather and viewing were looking good so we should be fine. Sure enough with about 2 minutes to go the telescope changed status and was on standby for us.
As soon as we got the go ahead to take over the controls we went straight to logging the coordinates of our object:
RA13:54:56.88,
DEC-23:33:20.16. FK5
After confirming these coordinates we selected Bessel R as a filter and 60 seconds exposure. Then we exposed the image. It was an anxious wait. At 10.33 our first image came through.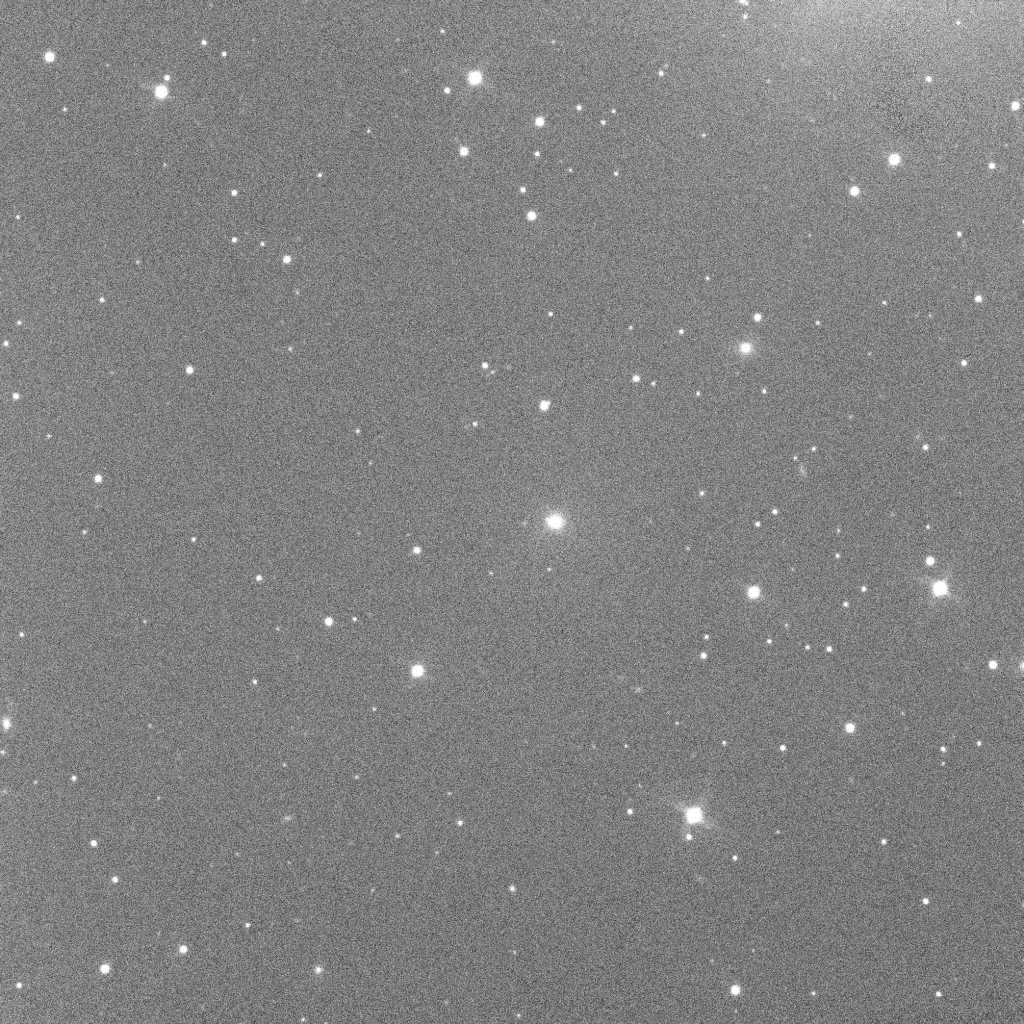 Excitement then ramped up a notch as we then chose to re-expose the object so we could do
some data reduction and get a blink comparison. We eagerly awaited our second image. After a further 7 images and 20 minutes viewing we had the data we needed to put into Astrometrica and do a blink comparison to see our image of Comet29P moving across the universe.
The second object was an unknown for us, but sounded very exciting!
We typed in the coordinates:
| | |
| --- | --- |
| RA: | 16h48'42" |
| DEC: | -1°53'32" |
The Scope slew around and we began to expose the object. We took 12 or so shots and then started to download the images for some post processing. Nick and the team at Glamorgan ran with the astrometry while we basked in the delight of another excellent observing session.
To add to the excitement we also managed to observe a small faint asteroid, K06A94U mag 21.1 just below the comet.
Late on Friday night came the icing on the cake! The second object we observed which was originally described as an "asteroidal object" was confirmed by the Minor Planet Center to be a comet! Wow we had been instrumental in identifying a new comet and along with the team at Glamorgan were the only team on the planet to have done this. Its designation is C2013 G9 (Tenagra). We can't believe it and we are literally over the Moon. We never in our wildest dreams thought we would ever take our Astronomy course to this level. It is an amazing discovery and one we will remember for the rest of our lives.
It is very exciting to be able to use the telescope to do our observing and to also help some of the fantastic hard working astronomers out there who make it possible for us.
 Looking forward to our next session to see what else the universe holds for us.