Faulkes Telescope - WISE Collaboration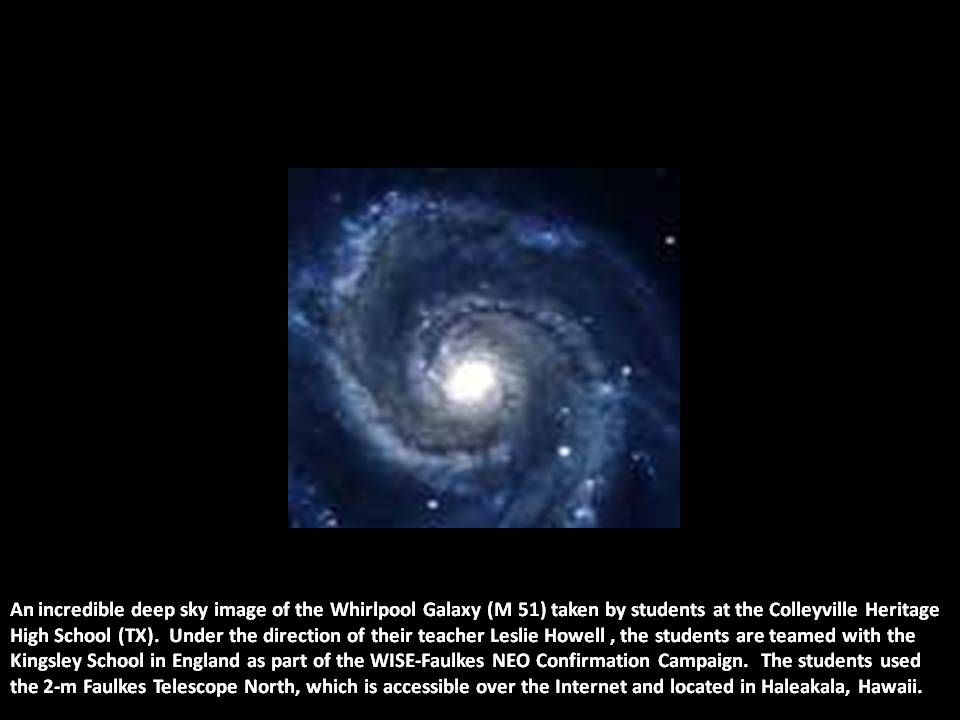 CHHS students participate in an out-of-this-world program

Colleyville Heritage High School is one of only five schools nationwide invited to participate in an asteroid-search campaign using NASA's Wide-field Infrared Survey Explorer (WISE), a sky-mapping spacecraft located in space to scan for comets, asteroids and other unknown celestial bodies.
"We are honored to be selected for such an exciting and important project," said Becky Prentice, CHHS Principal. "The collaborative learning these students practice during this program helps prepare them for future endeavors in science and other fields of study."
Five schools from the United States were matched with five schools from the United Kingdom to participate in the WISE-Faulkes NEO Confirmation Campaign. The program allows students to analyze images of near-Earth objects, known as NEOs, which have been discovered recently using WISE technology. NEOs are asteroids and comets with orbits that pass relatively close to Earth's path around the sun. These images are from two Faulkes Telescopes, which are located in Hawaii and Australia and are directly controllable over the Internet.
Leslie Howell, CHHS astronomy teacher, explained that the students use images from the
ground-based telescopes to verify and make observations about possible asteroids identified by the WISE technology. Working collectively, CHHS students and their partnering U.K. school use an interactive software tool specifically designed for scientific photography to analyze their
respective image sets and prepare reports for submission to the Minor Planet Center in Cambridge, Mass.
"Our most recent observation was of an asteroid identified by CHHS students Dylan Adams, Cole Stuart, Michelle Warnock and Remi Dimarco," Howell said. "Fortunately, this asteroid is not a threat to Earth, but the objective of the program is to track asteroids and locate new ones that could be on a collision course with Earth."
All of the students who make confirmed asteroid observations will receive a certificate from NASA's NEOs observations program and the campus will receive a plaque engraved with the students' names.
"This program has stimulated the students' interest in astronomy and the rigor involved alidates the importance of studying the theory of relativity, light frequencies and the space/time continuum," Prentice said. "The night labs, field trips to the University of Texas at Arlington space lab and classroom conversations truly make the content come alive to students."
CHHS senior, Matt Zollmann agreed.
"The asteroid search program has been a great experience for me," he said. "Astronomy is not like other science classes … we explore topics that I have never touched on before."
The six-week program began March 8 and concludes May 7.