Faulkes Telescope Team
Prof Paul Roche - Project Director

Paul is Director of the Faulkes Telescopes Project, and is the longest-serving member of the team, having started in early 2000 whilst Head of Education at the National Space Centre, Leicester. He is now Head of Astronomy at the Univ. of Glamorgan, and the UK National Schools' Astronomer, working all over the country with school groups, teachers, universities and amateur astronomers. Paul still dabbles in research, mainly working in the field of X-ray binaries and hot stars. He was previously a Senior Lecturer at Cardiff Uni., a Lecturer in Astronomy at the Uni. of Sussex and a research fellow at Southampton Uni. (where he gained his PhD in 1992). In his spare time he teaches
martial arts in the South Wales valleys and tries to keep up with his kids. 
Dr Sarah Roberts - Education Director

Sarah started work with the Faulkes Telescope Project (FTP) in January 2005 after completing her PhD in Astronomy, which involved looking for dwarf galaxies in different parts of the Universe. Sarah is currently the Director of Education for the FTP and has produced many of the educational resources for the project. She is responsible for the development of the FT website and online training programmes (http://resources.faulkes-telescope.com)aswell as managing the teacher training programmes for FTP, both face-to-face and online, in the UK and overseas. In addition, Sarah is the UK European Hands-On Universe representative, and project representative for the EU-funded Comenius Teacher Training and Radio Astronomy programmes. Sarah is also involved in undergraduate teaching at the University of Glamorgan, UK, and regularly teaches Astronomy to local high school students.
Alison Tripp - Project Administrator

Alison started work for the FT Project in November 2006 as the Project Administrator. However, Alison has been working with FT team members for much longer than that as she previously worked in the Physics & Astronomy School Office at Cardiff University where the project was previously based. Alison has also worked in the University Business School and has extensive experience working in educational environments having worked in schools as an assistant teacher and as a swimming instructor in a local Club. 
Dr. Fraser Lewis - Research Director 

Fraser has been working with FT since December 2004, and has completed his degree in Physical Science with the Open University in 2005. He is now working full-time for FT, having studied for a PhD with Paul Roche, and Simon Clark and Andrew Norton (Open University). Before working at Faulkes, he was a lighting technician/designer and stage manager, working with a
variety of bands and theatre groups at venues throughout UK and Europe. He has frequently been confused with the brother of the guitarist in Tears for Fears, and once accidentally stole Mick Hucknall's bike.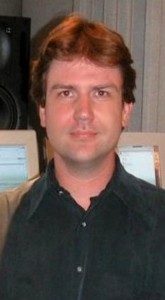 Nick Howes - Pro-Am Programme Manager
Nick has been working with the Faulkes Telescopes since 2009, coordinating projects involving leading UK and international amateur astronomers in the fields of near Earth object and asteroid/comets, along with projects supporting the European Southern Observatory imaging massive star cluster.  His detection of the fragmentation of C/2007 Q3 in 2010 gained international headlines for the Faulkes project. Nick runs an observatory at home in Wiltshire, is the technical consultant for the GEO observatory in Spain, and is a FAS accredited speaker, as well as a writer for multiple astronomy, photography and music technology magazines.Prior to Faulkes, Nick worked for 16 years at Yamaha's Research and Development division, in product planning, and then as their senior test engineer. He also engineered and did programming work for the pop group Ultravox.