Schools Spot a Supernova!
As part of the FTP's work with the Gaia Transient Alerts program, observations were recently taken of a supernova which has been reported in the well-known and spectacular galaxy, NGC 5128 (also known as Centaurus A). Below is a composite image of the galaxy taken using three filters using exposures of 120s with Faulkes Telescope South. Here the luminous supernova (indicated by the white arrow) can be seen to the right of the galaxy's core next to a brighter star.
The supernova (known as SN2016adj) was discovered on the 8th February, 2016 by Greg Bock and Peter Marples using BOSS (Backyard Observatory Supernova Search), a supernova searching project based in Australia and New Zealand. Their image is shown at the bottom of this page.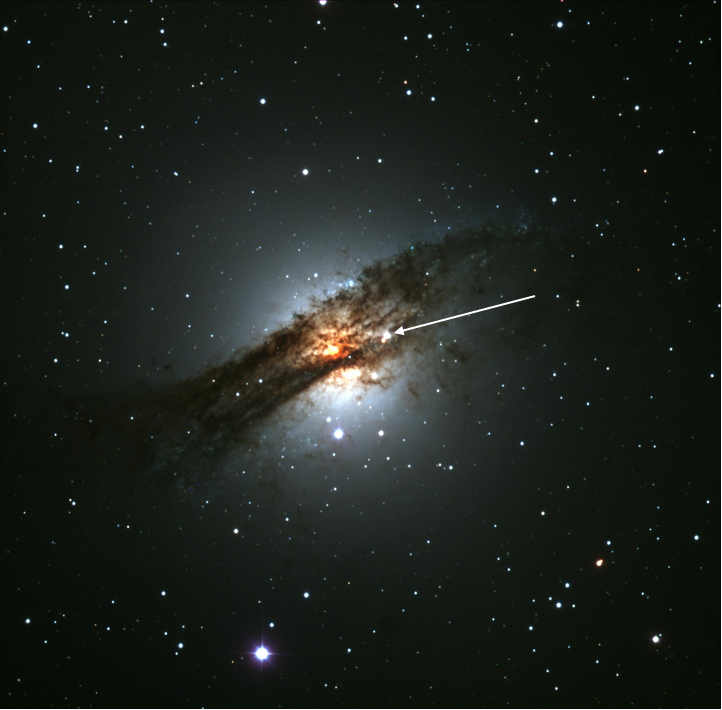 Image credit: Dr. Fraser Lewis, processed by Sophie Bartlett
The FT Team will continue to collect data on this supernova in order to see how it fades in brightness over the coming weeks and months. They will be able to make these data available to schools along with resources to measure this fade and to understand more about how the Gaia mission is contributing to our knowledge of this exciting phenomena. College Le Monteil in France has already been making their own observations of this particular supernova in NGC 5128 using the Faulkes telescopes and your school could be next. 
Gaia is detecting multiple new supernovae targets daily that require follow-up observations on optical telescopes. This is a great opportunity for schools to take part in cutting edge research and take beautiful images along the way. If you do make your own observations, send them our way and we'll upload them to our 
supernova gallery
.
If you'd like to hear more and recieve guidance on how you can get involved in the Gaia Alerts contact either Sophie or Fraser at:
sophie.bartlett (at) faulkes-telescope.com
fraser.lewis (at) faulkes-telescope.com