Comet caught dazzling
On January 28th, Richard Miles of the British Astronomical Association (BAA) caught a comet shining brighter than it has for 7 years.
The comet, known as Comet 17P/Holmes has been the target for a long-term study by Richard, and he has been using the the Faulkes Telescopes over the past few months to take observations of this icy body. 
On January 22nd, the comet was looking quite normal, with no obvious brightening at all, but when Richard looked at images that were taken by Faulkes Telescope North yesterday he was bowled over by what he saw. "The comet has gone from magnitude 18.1 to 14.3 - nearly 4 magnitudes brighter!" he said. "It probably exploded about 24-48 hours before the images were taken and what we need now are lots of images so we can stack them and probe the inner part of the expanding coma" he continued.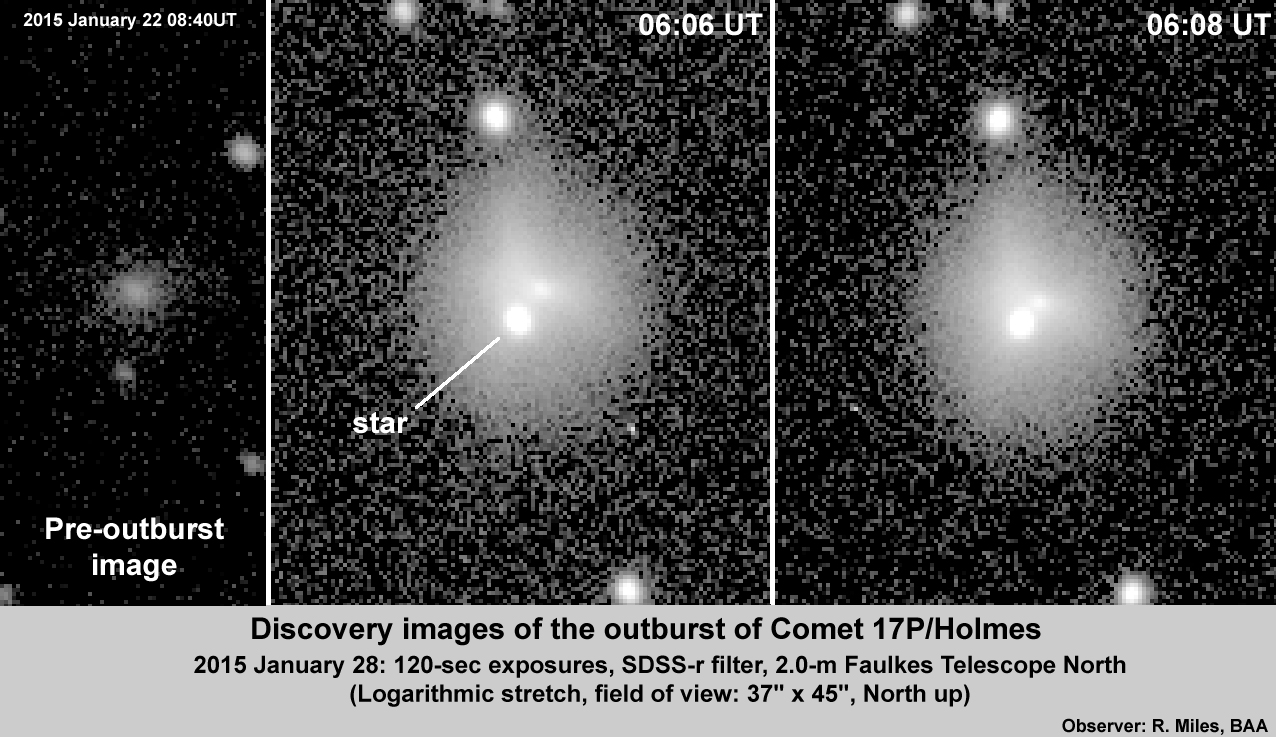 The picture above shows 'Before' and 'After' images taken of the comet, using the same filter, exposure time and image stretch. The image taken early on January 26th clearly shows the comet was quiescent at that time.

Comet 17P/Holmes has a history of going into 'outburst' (as astronomers call this sudden brightening), but this is the strongest one observed since the super-outburst of 2007 and has been confirmed by 2 other amateur astronomers (N.D. James and D. Buczynski) in the UK. 
To help Richard investigate this comet further, we are asking all users with slots on the Faulkes Telescopes if they can take some images of this comet with the Sloan r filter for 60s.
 The observing windows for this comet are given below for the 2m Faulkes Telescope North and 1m MacDonald Observatory telescope:
Observing window from FTN (F65):
January 30th,  05:15 - 10:30 UT
January 31st, 05:15 - 10:30 UT
February 1st,  05:15 - 10:25 UT
February 2nd, 05:10 - 10:25 UT
February 3rd,  05:10 - 10:20 UT
From V37 (McDonald Obs.) the windows are:
January 30th, 01:30 - 07:40 UT
January 31st, 01:35 - 07:35 UT
February 1st, 01:30 - 07:35 UT
February 2nd, 01:35 - 07:30 UT
February 3rd, 01:35 - 07:25 UT
You can find the coordinates for this object by going to the Minor Planet Centre Ephemeris search page here and following the steps below:
1. Put 17P/Holmes in the main box
2. Enter the date/time in 'Ephemeris start date' box, e.g. 2010 09 07 1200 for 12:00 UT on September 7th.
3. Click 'Ephemeris units' as 'minutes'
4. Enter "F65" for Faulkes North in the 'Observatory Code' box or "V37" for MacDonald Observatory
N.B. DO NOT use a lower case letter in the observatory code
5. Click on 'Get ephemerides/HTML page'
6. Select the positions (RA and Dec) corresponding to the times for your observing session.
Remember: When you observe this comet on the Faulkes Telescopes, use 17P as the object name.