Schools team create asteroid lightcurve
Earlier this month we reported that schools from across Europe had joined together to observe an asteroid travelling through the Solar System. LCOGT's Stuart Lowe made a quick animation of the asteroid, but the Comenius-funded schools team have now analysed the data and produced a fantastic light curve of the asteroid as it tumbled through space.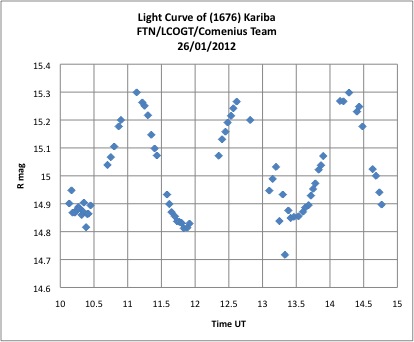 The plot, produced using the free software package, SalsaJ, shows how the light reflected by asteroid Kariba during its journey across the telescope's field of view, changes as it spins in space. From this lightcurve, the rotation period of the asteroid can be obtained and from the data here, it appears that asteroid Kariba takes just under 2 hours to make a full rotation.  
"It's fantastic to see what schools can achieve using the FTs when they work together" said Dr Sarah Roberts, the FT Education director, " let's hope that more schools with telescope accounts see what has been achieved in one day by this team, and are inspired to work on some collaborative projects of their own. After all, the sky's the limit!"
If you would like to get involved with working with other schools using the FTs, feel free to contact and we can put you in touch with like-minded schools.
For a larger version of the lightcurve, click here to go to Raoul Behrend's (Mathematics
specialist of asteroids at the University of Geneva) website.