FT North helps to launch BBC Stargazing Live
in
The BBC Stargazing Live series, presented by Prof. Brian Cox and comedian Dara O Briain, was launched on Saturday 14th January with a series of events taking place at the BBC Big Screens located around the UK, with FT North taking centre stage.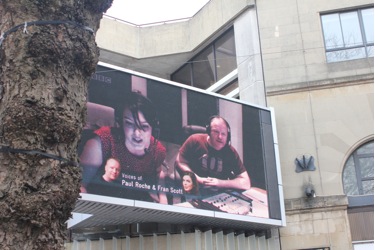 Image: The BBC Big screen in Cardiff shows the presenters locked away in their studio in Ealing.
The big screens were taken over for an hour by Paul Roche and Fran Scott (who works on the BBC "Bang Goes the Theory" programme), to showcase "live observing" using the Faulkes Telescopes. Despite a bright Moon, images were obtained live during the sessions using FT North on Maui, including open and globular clusters and a variety of spiral galaxies. The highlight of the session was probably the ever-popular M51 Whirlpool Galaxy colour image.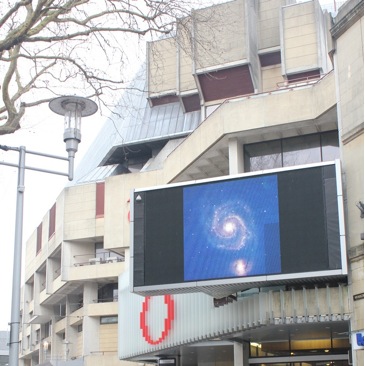 Image: The live image of M51 obtained during the BBC Stargazing Live launch event on the BBC Big screens.  
Paul was based at the Ealing TV Studios for the day, with preparations starting at 10am and the live observing running from 1-2pm. Following a few frantic hours of re-arranging the observing schedule (as there was no way for Paul to control the 'scope from the studio, so that task fell to Matt Gallop of the BBC, working in a room next door) and playing around with a fancy iPad application that would be used in the broadcast. 
This app allowed Paul to annotate and "draw" on the FT images, indicating areas of interest like dust lanes, spiral arms etc. The live show seemed to fly past, with 7 objects imaged in the session (with mono and then full-colour images being taken in most cases) and a number of "tweeted" questions answered from viewers at the big screen events. Behind the scenes, Edward Gomez (LCOGT/Cardiff Uni) kept a careful eye on the telescope, ensuring there were no technical problems to interfere with the event, whilst Stuart Lowe (LCOGT/Cardiff Uni) took pictures of the show at the Cardiff big screen.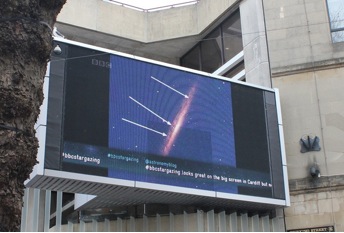 Image: Paul draws arrows on an FTN galaxy image to show where the dust lanes are.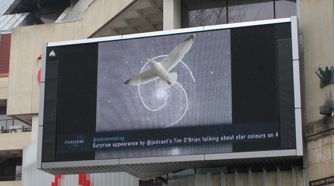 Image: a rare occultation of M51 by a seagull….!
The Faulkes Telescopes will continue to be involved in Stargazing Live through this week and into next, with Nick Howes co-ordinating a programme of asteroid and comet observations for school users.