FT Schools begin European collaboration
Users of the Faulkes Telescopes from across Europe have come together in a joint collaborative project after meeting for the first time at a European Hands-On Universe (EU-HOU) Teacher Training Session in Poland earlier this year.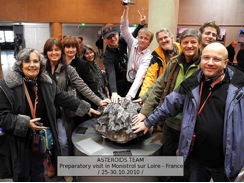 In May, teachers from the UK, Ireland, Poland, and Portugal attended the training workshop and the idea to join together and begin work on a project with their students, began to form. After returning to their countries, they successfully applied for funding from the EU Comenius Programme which aims to introdcue and strengthen European linksto the school's curriculum. 
The team met for the  first time in October, with a visit to France. Below, one of the French teachers, Andre Debackere from College Le Monteil, who organised the event, describes the visit. 
"The original suggestion that we become involved in the Comenius program was suggested to me by Anne Melchior from the University of Marie and Pierre Curie (and co-ordinator for EUHOU France). After discussions at an astronomy meeting in Torun, Poland during May 2010, the European partners were selected by Anne Laure Melchior to be representatives of their countries on the proposed program.
The stay of our foreign colleagues to begin the project lasted five days, from October 25 to October 30, 2010. Five foreign colleagues visited us: one Irish, two English, one Portuguese and one Polish, all physics teachers and one of them a French teacher.
From our side,the teaching team was composed of one Physical and Chemistry teacher, two
English teachers, two Mathematics teachers, one Biology teacher and a French teacher.
This meeting was an opportunity for teachers to make the effort to use a language that many of them were not familiar with (French / English). They are therefore aware that they will need to perfect their mastery of the language in the future for their correspondents to promote exchanges!
In addition the teachers were interested in the idea of approaching the subject from a work of literature, 'The Little Prince' by Saint-Exupery, which shows our determination to put our project in the multidisciplinarity and to build bridges between science and literature, while
making students aware of the importance of mastering a foreign language.
This meeting allowed us to start building our Comenius application. We were able to prepare the plans for our project (e.g. writing a science-fiction short story that would address the study of asteroids); travel could also be provided according to different events relating to Astronomy in the project countries.
Moreover, this preparatory visit has given us the opportunity to consider the number of video conferences needed to organise the various activities that could be practiced by students in the preparation of: observing sessions, handling, production of a web site, reporting results, writing texts in different languages involved in the Comenius project, publication in professional journals in each country, while thinking about how to evaluate our project.
Our role in the project comes from our experience in astronomy and, thanks to Sarah Roberts, access to robotic Faulkes Telescopes in Hawaï and in Australia since January 2010."
 The website designed by this team can be found by clicking here.