Comet cracker observing new target
After the worldwide news that Faulkes Telescope made earlier this year with the co-discovery by amateur astronomer Nick Howes that comet c/2007 Q3 had fractured and split into at least two components, Nick is now back imaging new cometary targets.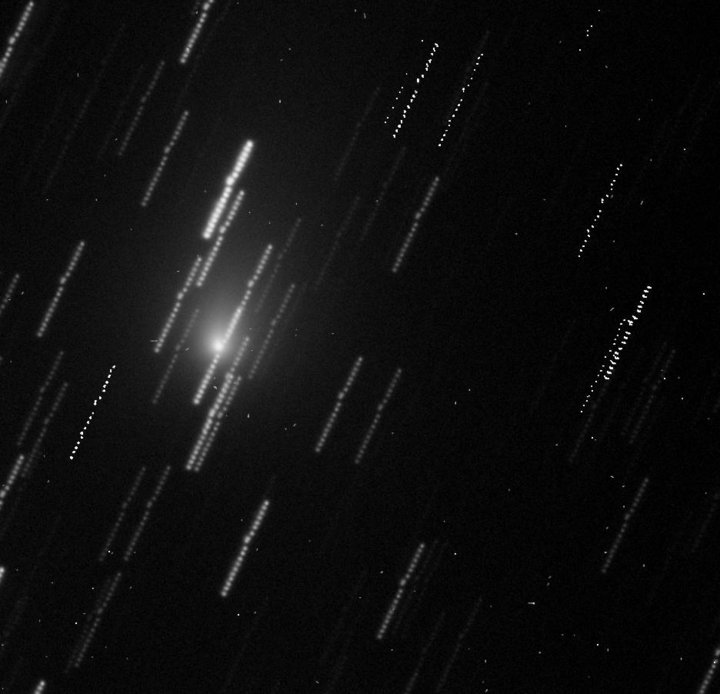 103P/Hartley is a small periodic comet with an orbital period of 6.46 years. It was discovered by Malcolm Hartley in 1986 at the Schmidt Telescope Unit in Siding Spring, Australia very close to the location of the 2metre Faulkes South telescope. Its diameter was initially estimated to be 1.2 to 1.6 km but subsequent observations by Spitzer now place it closer to 581m across.
There is a planned flyby of this comet by the Deep Impact spacecraft with a closest approach of 700 kilometers on November 4, 2010. This is part of NASA's EPOXI mission which you can read about here.
Nick, along with several other amateur observers around the globe, have been imaging 103P with a wide variety of ground based scopes, contributing the EPOXI missions AOP (Amateur Observers Program) which is feeding real science data back to the mission. Light curves, and coma structure images have already been submitted.
"After the success of the Deep Impact mission, another flyby proved possible, and thanks to some excellent outreach and calls for image data, it's been a real privilege to contribute to the science data using the wonderful Faulkes scopes" says Nick "it's every bit as exciting as Comet Siding Spring, given the mission objectives EPOXI has and the fact that the magnitude estimations on this comet were out, giving scopes like Faulkes with its incredible light grasp a better starting point for data acquisition"
The comet will pass within 0.12 AU of the Earth on October 20, 2010 which is only eight days before coming to perihelion (closest approach to the Sun) on October 28, 2010. During this passage, the comet may be visible to the naked eye at apparent magnitude 5 in the constellation Cygnus, if you know where to look and are viewing from a dark sky location.
"We're encouraging schools to image this comet, and submit their images to both the EPOXI mission Facebook page where they link it to the AOP archive and also to our own Faulkes Facebook page. There's also the possibility of using the free software package Astrometrica to measure the position of the comet, and submitting this data, along with data on its magnitude to the Minor Planet Centre at Harvard. It's a great project for schools to be involved in" says Faulkes Telescope's Dr Sarah Roberts.
If you'd like to image this comet, suggested images are using i' band and R band filters for between 20-30 seconds. You can find the coordinates for this object by going to the Minor Planet Centre Ephemeris search page here and following the steps below:
1. Put 103P/Hartley in the main box
2. Enter the date/time in 'Ephemeris start date' box, e.g. 2010 09 07 1200 for 12:00 UT on September 7th.
3. Click 'Ephemeris units' as 'minutes'
4. Enter "F65" for Faulkes North, or "E10" for Faulkes South in the 'Observatory Code' box as appropriate depending on which telescope you will be using.
N.B. DO NOT use a lower case letter in the observatory code
5. Click on 'Get ephemerides/HTML page' 
6. Select the positions (RA and Dec) corresponding to the times for your observing session. 
Remember: When you observe this comet on the Faulkes Telescopes, use 103P as the object name. 
Happy Observing!