FT staff attend prestigious astronomy events
in
Paul Roche and Sarah Roberts met retired astronaut Major General Charlie Bolden last week, as part of a series of schools lectures organised by the International Space School Education Trust (ISSET) and Cardiff City Council.
Charlie gave 3 presentations in Cardiff, at Cathays, Fitzalan and Whitchurch High Schools, talking to around 1,000 children. Paul attended the talk at Whitchurch, where head of physics Eric Coombes has been working with FT for several years. Charlie gave an inspiring and energetic talk about his years in the US Marine Corps and NASA, where he flew 4 shuttle missions (two as pilot and two as commander).
He answered a barrage of questions from an eager audience, including members of the Whitchurch HS Astronomy Club, run by Mr Coombes and Mr Spear.
In the evening, Paul and Sarah attended a civic reception hosted by Cardiff City Council, and discussed possible plans to set up a wider space/astronomy office as part of ESA's plans to establish European Space Education Resource Offices (ESEROs). It is hoped that Cardiff could host an ESERO for Wales, with a partnership between ISSET, FT, Cardiff University and the City Council.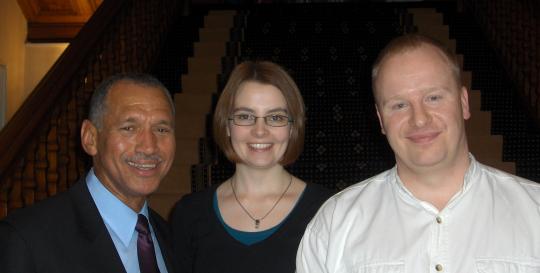 Sarah also attended the launch of Dark Sky Scotland, the first Scottish nationwide programme of public and educational astronomy events, on the 17th of January at the Royal Observatory in Edinburgh. The initiative aims to support and feed Scotland's astronomy and space science sector by offering special events for the public and training events for teachers. The Faulkes Telescopes will be among the resources presented at training events held as part of the new project.
For more details about Dark Sky Scotland see: http://www.darkskyscotland.org.uk/