Training
in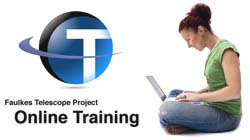 The Faulkes Telescope Project training programme is open to both teachers and their students. Training is also available for amateur astronomers who work with schools or are actively engaged in public outreach events.
Training can either be completed entirely online, via our online resources and training portal or users can opt to attend workshops where expert help can be given on a one to one and group basis.
Online Resources and Training Portal

All users registered with the Faulkes Telescope Project are automatically registered with the online resources and training portal. You can log in using your usual username and password. 
Training Workshops

All training workshops run by the FT team are offered free of charge, and all users of the Faulkes telescopes are  automatically eligible to attend. We actively encourage teachers to consider bringing enthusiastic students to these events (please ask about spaces available for this).
To see a list of upcoming training events and to attend click the link below: